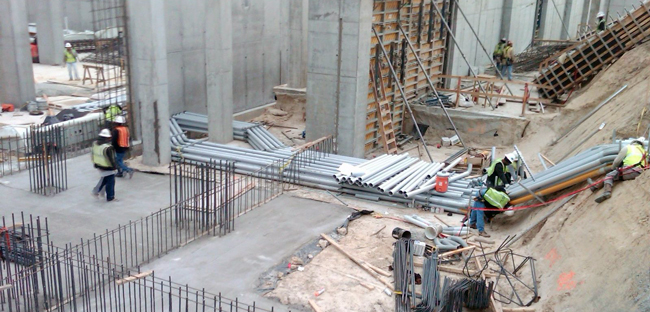 Based on our records below you can see that Safety is a very important factor in TRIO's culture.
All employees go through an extensive Safety Orientation that includes training before they are sent out
to the field. There is also Site-Specific training given based on project needs.
Safety Orientation:

PPE
Cut Prevention
Fall Protection
Ladder Safety
Housekeeping
Hot Work
LOTO
JSA / PSA
Struck By
Preventing Strains
Heat Safety

Job specific includes:

Excavation Safety
Aerial Lift
Scissor Lift
Scaffold Training
Rigging Training & Awareness
Forklift

All Project Leaders are required to have OSHA 30 Hour and First Aid/CPR Training.
Employees are required to complete a daily JSA and a PSA (Personal Safety Analysis). The PSA card is done digitally with a QR code and whenever an employee changes tasks they must complete a new PSA.
PSA is required to be filled out by anyone on or visiting a project.
Each project is Audited 2-3 times per month by the Safety Team, our Fatal 5 Audits cover several items based on TRIO's scope of work. Passing score must be 90 or above. TRIO's Fatal 5 are Hot Work, Ladders, Falls, Housekeeping and PPE.
Random Drug Testing is done frequently.
| Year | EMR | TRIR | LTIR | TX Recordables | Total Recordables | Restricted Cases | Lost Time | Other Recordable | Hours Worked | Average Employees |
| --- | --- | --- | --- | --- | --- | --- | --- | --- | --- | --- |
| 2022 | 0.62 | TBD | TBD | TBD | TBD | TBD | TBD | TBD | TBD | TBD |
| 2021 | 0.72 | 0.82 | 0.00 | TBD | 3.00 | 3.00 | 0.00 | 0.00 | 730,492 | 372 |
| 2020 | 0.61 | 0.24 | 0.00 | 1.70 | 1.00 | 1.00 | 0.00 | 0.00 | 821,724 | 410 |
| 2019 | 0.55 | 0.97 | 0.00 | 1.30 | 4.00 | 1.00 | 0.00 | 3.00 | 826,957 | 399 |
| 2018 | 0.49 | 0.00 | 0.00 | 1.70 | 0.00 | 0.00 | 0.00 | 0.00 | 820,206 | 410 |
| 2017 | 0.50 | 0.88 | 0.00 | 2.60 | 3.00 | 2.00 | 0.00 | 1.00 | 684,306 | 338 |
| 2016 | 0.52 | 0.50 | 0.00 | 2.00 | 2.00 | 0.00 | 0.00 | 2.00 | 800,107 | 382 |
| 2015 | 0.69 | 0.00 | 0.00 | 2.00 | 0.00 | 0.00 | 0.00 | 0.00 | 687,397 | 325 |
| 2014 | 0.86 | 0.00 | 0.00 | 1.60 | 0.00 | 0.00 | 0.00 | 0.00 | 511,037 | 238 |
| 2013 | 0.89 | 0.49 | 0.00 | 2.50 | 1.00 | 1.00 | 0.00 | 0.00 | 408,953 | 190 |
| 2012 | 0.82 | 0.00 | 0.00 | 3.90 | 0.00 | 0.00 | 0.00 | 0.00 | 412,014 | 281 |
| 2011 | 0.80 | 1.80 | 1.20 | 2.60 | 3.00 | 1.00 | 2.00 | 0.00 | 333,033 | 160 |
| Average | 0.67 | 0.52 | 0.11 | 2.19 | 1.55 | 0.82 | 0.18 | 0.55 | 639,657 | 319 |
BLS definition of TRIR = (# Recordable Cases * 200,000)/Hours Worked in Year)
BLS definition of LTIR = (# Lost Time Cases * 200,000)/Hours Worked in Year)
Texas Electrical Contractors Average TRIR Source: Bureau of Labor Statistics (http://www.bls.gov/iif/oshstate.htm)