TRIO is "Changing The Process"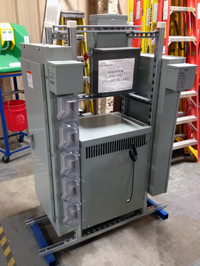 TRIO pre-assembles material at its warehouse facility prior to installation. We manufacture large quantities of electrical assemblies (boxes, whips, fixtures, gear, temporary panels, racks, etc.) in a controlled environment before it is shipped to the jobsite. Our process ensures quality control is completed before it's too late!
Prefabrication allows TRIO to:
Enhance productivity – factory vs. field
Expedite construction schedules – "as built" done in advance
Reduce general conditions – less trash and clean-up
Increase safety / reduce jobsite injuries
Get out of the way of other trades
Educate new employees / green helpers
Manufacturing components in our off-site factory is more effective and efficient:
Questions are inherently raised that reduce errors
Field supervisors have hand in the process
CAD layouts are available
Production worksheets drive delivery schedule
Prefabrication saves clients time and money.
In a controlled environment, we can produce higher quantities with greater accuracy before it is shipped to the jobsite.